Michael Honniger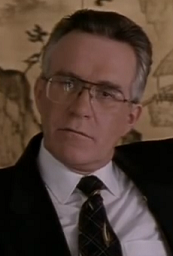 Statistics

Name
Michael Honniger
Died
1993
Nationality
American
Status
Deceased, murdered
Occupation
CEO Honniger Communications
Portrayed by 
Ken Camroux
Honniger was the CEO of Honniger Communications consisting of three newspapers and six radio and television stations and was worth over 280 million dollars. He was also an art collector. His daughter, Suzanne, however, decided that since he was a healthy man, hadn't made a decision of his own in years, and she had little patience, she would have to hurry his demise and her inheritance and hired a hitman called Anthony Gallen.
Honniger, for his part, suspected his daughter, and hired a private investigation. His operative, Tommy Bannon was then killed by Gallen in front of Duncan MacLeod, by chance involving him in the whole plot.
Within days of Bannon's death, Suzanne arranged to drive him to the office herself, "we never get to spend time alone..." but left the car at the end of the drive on the pretext of having forgotten something. When she was away from the car, Gallen phoned Honniger on the car phone with message from his daughter: "Goodbye." Explosives in the car were then detonated, and Honniger was killed. His funeral was attended by the governor.
Ad blocker interference detected!
Wikia is a free-to-use site that makes money from advertising. We have a modified experience for viewers using ad blockers

Wikia is not accessible if you've made further modifications. Remove the custom ad blocker rule(s) and the page will load as expected.