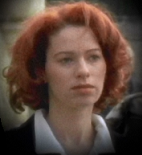 A Watcher, she was recruited upon her graduation from the university of Prague in 1976.  She graduated from the Watcher Academy ranked second in a class of 82 in 1977.  He skills include surveillance, administration and organization, and the languages Russian, Polish, Czech, Slovak, English, basic French and Bulgarian. Her career included the following assignments:
1980 - 1983 Nichoals Kuchinka
1983 - 1988 Andrei Kroviak
1988 - 1995 Yelean Varsenik
1991 - 1996 Area Supervisor, Warsaw
1995 - 1996 Coordinator, Eastern Europe
In 1996 she was commanded to appear before the Tribunal in the matter of Joseph Dawson, who would stand trial for treason.  She served as foreman on his jury, and voted to find him guilty.  At Dawson's scheduled execution, she and the rest of the jury were to serve as witnesses.  It was then that the Immortal, Jacob Galati, mowed down the entire Watcher contingent with automatic weapon fire. Ironically, the only survivor of the massacre was Dawson.
Ad blocker interference detected!
Wikia is a free-to-use site that makes money from advertising. We have a modified experience for viewers using ad blockers

Wikia is not accessible if you've made further modifications. Remove the custom ad blocker rule(s) and the page will load as expected.