Nancy Goddard
Statistics

Name
Nancy Goddard
Nationality
French
Status
Alive
Portrayed by 
Laura Marine
Nancy Goddard was a mortal woman, and wife to the Immortal, Warren Cochrane in his guise as travel writer, Warren Goddard. 
Around 1981, Cochrane adopted the Warren Goddard identity, which had him born in 1964 in Killiecrankie, Scotland. His false biography told of parents who died in a car accident when he was 16. As Goddard, he built as a life as a travel writer, he mostly wrote books on the history of England and Scotland. It was this man that Nancy married, she never knew any more of him, he never told her what he was.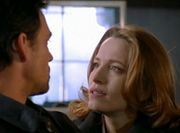 Warren met Andrew Donnelly in Aberdeen. He was a young immortal who had no mentor, and lived on the streets. Cochrane took him in, gave him a job, and taught him about his immortality. Nancy did not like Donnelly, she said that Warren treated him more like a son than an employee, and that Donnelly was unappreciative.
In April 1996, Cochrane took Donnelly to Normandy where Andrew told his mentor quite clearly what he thought of dead history, and the 'bum' of a prince that was the focus of Cochrane's life. Cochrane was overwhelmed by his anger, he drew his sword and beheaded his own student.
When the body was discovered, Cochrane fled, a fugitive, leaving behind Nancy, and his home in France.
Ad blocker interference detected!
Wikia is a free-to-use site that makes money from advertising. We have a modified experience for viewers using ad blockers

Wikia is not accessible if you've made further modifications. Remove the custom ad blocker rule(s) and the page will load as expected.