Natalie Ward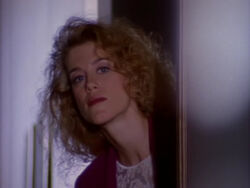 Statistics

Name
Natalie Ward
Born
July 6, 1958 in Washington, DC USA
Nationality
American
Status
Alive
Occupation
Model
Portrayed by 
Moira Walley-Beckett (credited as Moira Walley)
Natalie Ward was a model and friend of Tessa Noël who lived and worked in Seacouver. En route to a shoot one night, a serial killer known as "The Scalper" attacked Natalie. She survived the attack, but with serious wounds to her scalp, where the assailant tried to remove it.
Tessa and Duncan MacLeod arrived in time to thwart the assault, and Duncan chased after him, but The Scalper escaped. Natalie was shaken and upset, and Tessa helped to comfort her.
Natalie stayed with Tessa while she recovered from her ordeal, and her friend, with MacLeod's help set a trap fro the killer. In the end, it was Tessa who brought down a man named Michael Tanovsky, who had styled himself after a long ago serial killer.
Ad blocker interference detected!
Wikia is a free-to-use site that makes money from advertising. We have a modified experience for viewers using ad blockers

Wikia is not accessible if you've made further modifications. Remove the custom ad blocker rule(s) and the page will load as expected.