Nicholas Ward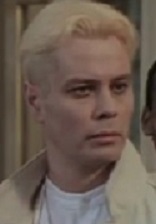 Statistics

Name
Nicholas Ward
Born
1489, London, England
First Death
1525, hanged for a series of murders
Teachers
Nell Fagin
Origin
English
Watchers
Wilma Walter
Status
Deceased,Beheaded by Duncan MacLeod 1994
Occupation
Serial killer, "vampire"
Portrayed by 
Jeremy Brudenell
Nicholas Ward was first  hanged in 1525 for a series of murders in south London. It was part of a plot to enrich himself through the deaths of other people. A series of murders left, at the end, a young, pretty widow as sole beneficiary of an estate, whom Ward then married, murdered, and inherited property and money from as the surviving spouse.
In 1840 he heard that three business partners had desecrated a church in Transylvania, after which he took employment as their lawyer and hatched a new plan. One by one, he killed all three and made it appear that they were killed by a vampire. At that point,  he met the Immortal, Duncan MacLeod, who interfered with his intention to marry the daughter of the last victim, and thus inherit control of the company. MacLeod unmasked him as the killer, and ultimately challenged him. They fought briefly, but then were forced to seperate because of a carriage that drove by. Ward entered the carriage and disappeared. Ward hid his sword in a fancy walking stick so he could discreetly carry it.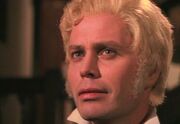 Style and appearance were more important than substance for Ward. Towards the end of the twentieth century, he felt drawn to the music scene. In 1993, he became a record producer in London. In early 1994, Ward was in Paris and was looking for new bands for his label. Ward began a new series of murders, this time creating a 'serial killer', attacking graduates of certain colleges. Conveniently, this made the Ward's new lover, Helene Piper, the heiress to a lucrative business.
Ward had once again planned to marry his money instead of earning it, but just minutes before the wedding, he was confronted by MacLeod. Ward lost his head on the grandstand at a racetrack to MacLeod.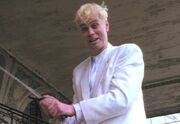 Ad blocker interference detected!
Wikia is a free-to-use site that makes money from advertising. We have a modified experience for viewers using ad blockers

Wikia is not accessible if you've made further modifications. Remove the custom ad blocker rule(s) and the page will load as expected.