Nora Fontaine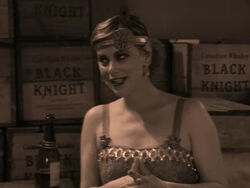 Statistics

Name
Nora Fontaine
Born
May 20, 1896 in Boston, Massachusetts
Nationality
American
Status
Deceased
Occupation
Writer
Portrayed by 
Carolyn Dunn
Nora Fontaine was a mortal woman, and former lover of Duncan MacLeod. 
On January 1, 1924, Nora and  MacLeod were are a New Year's celebration and they were having a great deal of fun. A socialite was being snobbish with them both, and Nora was being rude. It all ended with a raid, however, and the couple dove into a storage room to hide.
Noraspoke of what fun they will have, what the future will bring them - children numbering among her wishes.  MacLeod lost the joy of the moment when he explained he could not give her children.
Ad blocker interference detected!
Wikia is a free-to-use site that makes money from advertising. We have a modified experience for viewers using ad blockers

Wikia is not accessible if you've made further modifications. Remove the custom ad blocker rule(s) and the page will load as expected.