Patrick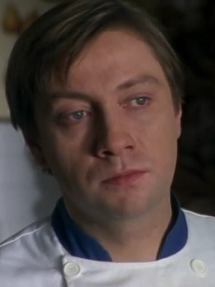 Statistics

Born
France
Status
Deceased, murdered by Kalas
Occupation
Chef
Portrayed by 
Frédéric Witta
A mortal working at Le Cordon Bleu with Naomi Camdessus, he had once been briefly involved with her, and was unwilling to let her go. When she rejected him, he pursued her. She asked "How many times do we have to go through this? What happened between us is over." To which he replied, "How can it be over when I'm with you every day? You're my life. We have to be together."
She had, however, moved on, and was happily involved with Hugh Fitzcairn. Jealousy drove Patrick to pull a gun on Fitz at one point, and warn him away from Naomi, Fitz contemptuously responded "jealousy is just the love of one's self," and disarmed the man easily, humiliating him in front of Naomi.
Seeing Patrick as a convenient tool, Kalas approached him, and directed him to uncover Fitz's fraudulent resume. He then had Patrick call Naomi and tell her to come to the school. After which he murdered Patrick and left him for Fitz to find, and with their history, be blamed for the man's death. Things worked out as Kalas had planned with both Fitz, and then Naomi, stumbling across Patrick's body. Fitz protested his innocence, but Naomi was horrified. With the arrival of the police, Fitz jumped out a window, ending his life with Naomi.
Ad blocker interference detected!
Wikia is a free-to-use site that makes money from advertising. We have a modified experience for viewers using ad blockers

Wikia is not accessible if you've made further modifications. Remove the custom ad blocker rule(s) and the page will load as expected.