Peggy McCall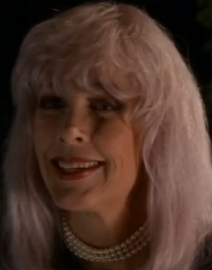 Statistics

Name
Peggy McCall
Aliases
Margaret Lang
Nationality
American
Status
Alive
Occupation
Singer
Portrayed by 
Stella Stevens - older Peggy
Tamara Gorski - younger Peggy
A mortal lounge singer, she was the headliner at the Coconut Lounge in 1938, a club owned by brothers
Sid
and
Joey Lankovsky
. She was seeing Joey, who drove her crazy by flirting with waitresses and cigarette girls.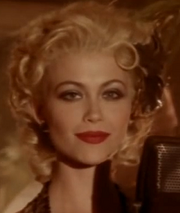 She decided to pay him back one night by dancing with a handsome patron,
Duncan MacLeod
. Sid made sure Joey was aware of the flirtation, and then used the tension between the two men to stage a double murder. He shot both men, but told Peggy they had killed each other. He said he would take care of her, and she blamed the deaths on herself, if she had not tried to make Joey angry, she was convinced both men would still be alive.
It was implied that Sid forced her retirement after she sang in the old Palace Ballroom in Chicago on New Years Eve, 1939. After that, Sid changed his name to Simon Lang and they were married. Sid worked for the next fifty years to present himself as a legitimate business man, and Peggy played the dutiful wife, but there were suggestions she was never really happy.
At a hospital fund raiser in 1995, she recognized Duncan MacLeod as he danced with Anne - as did her husband, Sid. She accepted the story that he was his own grandson, and wondered why Sid was again acting like the hood he started as. When she learned that Sid had murdered Joey, she cried that Joey had been her life, and he pushed her to the floor. When he then held MacLeod at gunpoint, she shot him before he could kill MacLeod. "What happens now?"  she asked.
MacLeod wiped her fingerprints from the gun and said he would take her home.     
Ad blocker interference detected!
Wikia is a free-to-use site that makes money from advertising. We have a modified experience for viewers using ad blockers

Wikia is not accessible if you've made further modifications. Remove the custom ad blocker rule(s) and the page will load as expected.