Peter Wells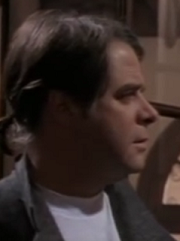 Statistics

Name
Peter Wells
Portrayed by 
Jack Galloway
A mortal and record producer living in Paris. He was partners with Barry Piper, whom he called "the best ears in the business."  He was targeted by Immortal murderer Nicholas Ward whose modus operandi was to hide one murder with another in order to enrich himself. 
After he drowned Piper in his own pool, he tracked Wells, and strangled him to death with a telephone cord only moments before MacLeod could intervene. The deaths of three men in their early fifties who all attended the same exclusive Swiss prep school, led Paris police to believe there was a random serial killer responsible. Ward, however, meant to eliminate those who stood between him and inheriting Wells' company.
Ad blocker interference detected!
Wikia is a free-to-use site that makes money from advertising. We have a modified experience for viewers using ad blockers

Wikia is not accessible if you've made further modifications. Remove the custom ad blocker rule(s) and the page will load as expected.