Pierre Segur
Talk

0
745pages on
this wiki
Pierre Segur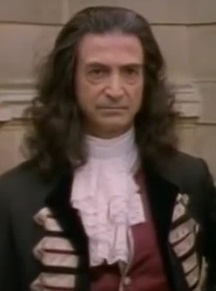 Statistics

Name
Pierre Segur
Born
1429, Dijon, Duchy of Burgundy
First Death
1477, protecting Charles the Bold at the Battle of Nancy
Teachers
Pascal Chaussende
Pupils
Duncan MacLeod
Origin
French
Watchers
Marie Petin
Status
Dead(head taken by Martin Hyde in 1700)
Occupation
Merchant, former soldier
Portrayed by 
Nicolas Chagrin
Pierre Segur
born in 1429 in Dijon, the capital of the Duchy of Burgundy. He became a soldier and strategist in the Burgundian army. Segur was 1476/77 participated in the siege of the capital of Lorraine, Nancy. After several hard winter months, the siege came to an end, as on January 5, the Duke René II of Lorraine and his army attacked the Burgundians. Segur fell in battle, while he tried to protect his Duke Charles the Bold.
Once again as an immortal Segur was awake, he left the military and began a quieter life. He made a fortune as a merchant several times, with gold, spices, and finally fine silk from the Orient. Segur was married twice. Once the widow of a business partner who left behind the death of her husband with young children destitute. His second wife, Margaretta Segur married for love and stayed with her ​​until she died in 1658 aged 86. From his days as a soldier Segur was a good swordsman. He also exercised regularly, but he called himself out no other immortals. If someone tried to fight with him, but he introduced himself honorably.
In 1700, Segur lived as a wealthy merchant in Paris. There he was visited in August, his friend Duncan MacLeod, who was due to the burial of the mortal Alain Jaubert come to Paris. The death Jauberts whose birth MacLeod had seen and who was now dead as an old man, took Duncan very hard. Segur saw the death of mortals, but with a certain pragmatism as the price of their immortality. Outside the church they both met with Martin Hyde, the Segur challenged. Duncan wanted to play against Hyde, but Segur held him back. He gave Duncan a bottle of old cognac. He wanted to drink after the fight, but Segur did not come to the meeting place. Hyde had been found to be the better fighter.