Reagan Cole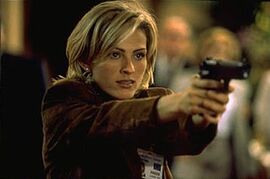 Statistics

Aliases
Ludmilla von Tcheka, Isadora Wynter, Casey Monroe
Born
1504, Canton of Uri, Switzerland
First Death
1531, Beaten by robbers
Teachers
Amanda
Origin
Swiss
Watchers
Vinnie Sobotka
Status
Alive
Occupation
Bounty Hunter
Portrayed by 
Sandra Hess
Reagan Cole was beaten to death by bandits in 1531, and revived as an Immortal. Her first teacher was the Immortal, Amanda Darieux. She found her calling as a bounty hunter. Something she has pursued for over 165 years.
In 1833, she met 
Duncan MacLeod
. She posed as Countess Ludmilla Albertina Katushka Tcheka of Hungary and seduced him, before she called the guards who arrested him. Reagan, who had lured him into this trap, was appalled that Duncan's alleged high treason was in fact the cuckolding of a duke. Reagan dressed as a nun and attacked his transport, and managed to free Duncan, but he was understandably resentful, and he left her tied to the ducal carriage.
In 1998, Reagan dressed as police officer in a strip show to get at the criminal, Raphael Vega. They grabbed him, but he was then shot by the assassin, Jack Kendal. After this disaster, Reagan decided to take a vacation. She flew to Paris, and arranged to meet her old friend MacLeod.
Shewas a witness when two men killed a photographer working in the square.  She drove Brian Murphy, a model from the shoot, home. In his apartment, however, they were met by the murderers who were looking for his film. Reagan killed one of the men, the other escaped.  After questioning by Rowan Mitchell, an agent of Interpol, Reagan searched for and found the film in a public waste basket and developed it.
Reagan recognized the assassin, Jack Kendal, on one of the photos and immediately suspected that his presence in Paris with an EU conference was not unrelated.  She discovered a bomb at the conference, and Jack finally unmasked himself,  wired with explosives,  but Reagan shot him and they both fell out the window to be killed by the explosion
Her sword is of a style that was standard issue for Napoleon's army.  The hilt is a solid cast piece of brass, there is a knuckle bow attached at the pommel and curves around to the right in a short, curved cross guard.  The short curved blade is ideal for slashing.  She has been carrying it for almost 200 years.
Ad blocker interference detected!
Wikia is a free-to-use site that makes money from advertising. We have a modified experience for viewers using ad blockers

Wikia is not accessible if you've made further modifications. Remove the custom ad blocker rule(s) and the page will load as expected.