Ricky Price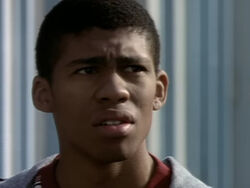 Statistics

Name
Ricky Price
Nationality
American
Status
Alive
Portrayed by 
Biski Gugushe
Ricky Price was a young friend of immortal, Carl Robinson.
Ricky was with Carl when they witnessed a drug dealer dealing cocaine. Robinson decided to rob the drug dealer, taking his money. In the aftermath, they stole Charlie DeSalvo's car as a getaway.
Ricky eventually gets chased down by cops, Kenneth Dixon and Eugene Carter. Carter roughed up Ricky when he caught him and demanded to know where Carl Robinson was.
Kenny stopped his partner from committing further abuse.
Ad blocker interference detected!
Wikia is a free-to-use site that makes money from advertising. We have a modified experience for viewers using ad blockers

Wikia is not accessible if you've made further modifications. Remove the custom ad blocker rule(s) and the page will load as expected.