Robert Frayne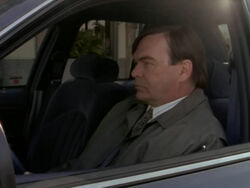 Statistics

Name
Robert Frayne
Died
1996
Nationality
American
Status
Deceased
Occupation
Detective for the Seacouver P.D.
Portrayed by 
James Leard
Robert Frayne was a detective working for the Seacouver police department in concert with the Interpol agent, Nicolae Breslaw, in the case of the attempted murder of Alan Wilkinson.
He was ambushed by Ingrid Henning, who would allow no interference with her plans to assassinate Wilkerson. Despite his protests of having a wife and children, she shot him down.
Ad blocker interference detected!
Wikia is a free-to-use site that makes money from advertising. We have a modified experience for viewers using ad blockers

Wikia is not accessible if you've made further modifications. Remove the custom ad blocker rule(s) and the page will load as expected.