Rodney MacFergus was born in Lochearnhead, Scotland. He was an carpenter anda soldier. After being recruited as a Watcher, he was assigned the  Immortal
Alistair Wallace
from 1809 to 1813.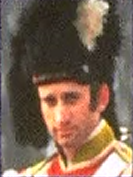 Thereafter, he was assigned to Duncan MacLeod, following him to the New World.  In 1818, in Fort Anthony in the western territories of the US, he met a woman he wanted to marry and  having "...found peace and happiness at last..."  tendered his resignation. He retired in 1818
Ad blocker interference detected!
Wikia is a free-to-use site that makes money from advertising. We have a modified experience for viewers using ad blockers

Wikia is not accessible if you've made further modifications. Remove the custom ad blocker rule(s) and the page will load as expected.