Roland Kantos
Statistics

Name
Roland Kantos
Aliases
Roland Chanteur, Rolando Cantante
Born
346, Avila, Hispania
First Death
385, convicted and executed for sorcery
Teachers
Cassandra
Origin
Iberian
Watchers
Harold Margules
Status
Deceased (head taken by Duncan MacLeod in 1996)
Portrayed by 
Gerard Plunkett
Roland Kantos
was born about AD 346 in Avila, in the Roman province of Lusitania. In the year 385, he was accused of witchcraft and executed. After his revival, his first mentor was
Cassandra
, who taught him a special talent: Kantos could infuse his voice with hypnotic power.  For more than a thousand years, he was her student, and perfected the use of his skills. When he decided Cassandra could teach him nothing more, he tried to kill her.  Cassandra escaped him.
Sometime before 1606, Kantos learned of a prophecy. It evidently refers to Kantos and also mentioned his demise: "A foundling from the Highlands, born on the day of the winter solstice and the darkness went into the light, to challenge the voice of death."  During  the seventeenth century, he searched the Scottish Highlands for a boy. In 1606, he was looking for a 13-year-old boy, a foundling, he claimed as his own son. He questioned both Ian MacLeod, the chief of the Clan MacLeod and his wife, but his search was unsuccessful due to Mary MacLeod's determination to protect her son from the danger she felt this stranger promised. 
Kantos' Watcher, Ian Lachlan followed him  through Scotland, recording the search.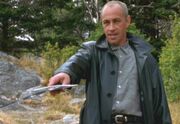 Roland Kantos perfected over the centuries his hypnotic voice, with which he won every battle with ease, persuading his opponents to believe their own weakness. But, when parts of the prophecy began to unfold, he decided in 1996, the "child of the Highlands" had to die, and he tracked Cassandra. In New York he found a private investigator, discovered where Cassandra was staying, and who she was looking for. Before leaving for Seacouver, he killed the detective and caused his partner to commit suicide.
Harold Margules, his Watcher at the time, disappeared shortly thereafter, his body was later recovered from the Hudson River, allegedly died by suicide. The Watchers were apparently not aware of Kantos' hypnotic skills, but they did, however, doubt the suicide theory. What Kantos learned from Margules' was not known. Kantos arrived in Seacouver in early June and met Cassandra and Duncan MacLeod, in whom he saw the enemy of the prophecy. Their first fight was interrupted by Cassandra, but MacLeod suffered under the force of Kantos' hypnotic abilities.
Kantos eventually influenced two police officers to arrest MacLeod on holy ground and bring him to him. Since the use of his powers severely fatigued Kantos, he took his time until he could recover before challenging MacLeod. When he was finally ready, he experienced a bitter defeat, Duncan MacLeod had an inspiration and sealed his ears with wax and made himself so immune to Kantos' abilities. Kantos was defeated and  beheaded.
A Medieval European Broadsword with a curved cross guard and a single ring guard to protect the hand. A heavy ovular pommel offset the long fullered blade.