Sara Lightfoot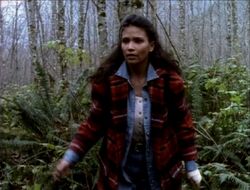 Statistics

Name
Sara Lightfoot
Born
11 November 1963, Confederated Tribes of the Colville Reservation
Status
Alive
Portrayed by 
Michelle Thrush
Sara Lightfoot is a mortal woman, seen in season two of Highlander: The Series.
Biography
Edit
Born on the Colville Reservation in Washington State, Sara Lightfoot was a First Nations woman who married the brother of wealthy landowner, Avery Hoskins, in January 1994. Hoskins, however,  opposed the union, because, according to Sara, she was "not white enough".
At some point in 1993, Sara gave birth to a daughter, and not long afterward her husband died, then in January 1994, her infant also passed away due to mercury-poisoning from Hoskins' mines. Hoskins man, Billy, aware of a potential public-relations disaster if the toxic mercury runoff-levels on his lands were made known, paid Sara $10,000 in hush-money to keep her quiet, Hoskins knew nothing of it.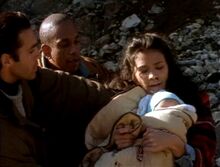 An angered Sara, however, burned the money on her daughter's grave, and in February of that year kidnapped Avery's infant son, Jaime, in an attempt to "regain" her own child through his. Fleeing the Hoskins estate, Lightfoot traveled into the wilderness, pursued by Hoskins and his men, where she encountered
Duncan MacLeod
and
Charlie DeSalvo
.
MacLeod and DeSalvo were caught up in the chase after Hoskins' men opened fire on Duncan during an attempt to parlay. They helped Sara and the child evade their pursuers until the truth about the infant's parentage finally came to light. Billy tried to kill her outright when she was separated from the men on at least two occasions. Hoskins was finally forced to kill Billy to save Sara and the child. The safe return of the child was successfully negotiated by MacLeod, despite Lightfoot's threat to throw herself and the baby off a rock face before she would give him up. MacLeod asked who would remember her daughter if Sara died, who would sing her song, that Jaime was an innocent, just like her daughter had been. Crying she gave up the baby.
Ad blocker interference detected!
Wikia is a free-to-use site that makes money from advertising. We have a modified experience for viewers using ad blockers

Wikia is not accessible if you've made further modifications. Remove the custom ad blocker rule(s) and the page will load as expected.