Sharon Collins
Statistics

Born
1852, in Providence, Rhode Island
First Death
1876 - Struck by lightning
Teachers
Axel Whittaker
Origin
American
Watchers
Emmett Dickson
Status
Deceased, 1896 - Beheaded by Axel Whittaker
Portrayed by 
Alexa Gilmour
Sharon Collins was born in Providence, Rhode Island in 1852.  She experienced her First Death at a town picnic in 1876, when she was struck by lightning. 
Background
Edit
She was one of many inexperienced female
Immortals
who were used by Axel Whittaker as bait to lure other Immortals. In 1896, in Boston, she lured
Duncan MacLeod
up to her hotel room with the excuse that an Immortal was after her, and she didn't know how to fight. There, Axel was waiting, but he failed to behead Duncan.
The following night, MacLeod confronted Sharon, saying Axel was using her, and that he would never teach her how to fight with a sword. She asked him to help her get away from Axel, and they arranged to leave that afternoon. Axel, however, found out that Sharon intended to leave him. While MacLeod was waiting for Sharon, Axel took her head and disappeared.
Her Watcher at the time of her death was Emmett Dickson.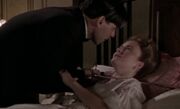 Ad blocker interference detected!
Wikia is a free-to-use site that makes money from advertising. We have a modified experience for viewers using ad blockers

Wikia is not accessible if you've made further modifications. Remove the custom ad blocker rule(s) and the page will load as expected.