Simone Thomas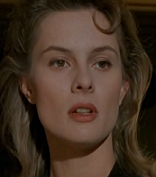 Statistics

Name
Simone Thomas
Born
June 15, 1973 in Paris, France
Died
March 19, 1995
Nationality
French
Status
Deceased, stabbed by Lucas Kagan
Occupation
prostitute and thief
Portrayed by 
Géraldine Cotte
Maurice Lalonde's niece, Simone, the daughter of his first wife's sister, unbeknownst to Maurice, she worked as a high end prostitute.
Her mother died when she was ten, and her father fell apart. He began using her as a replacement for all things he had had from his wife. She told no one, not even Maurice, who's wife died in the same accident Simone's mother did. He sought comfort in alcohol for the next five years.
At 25 she became involved with an Immortal
Lucas Kagan
, a thief and murderer. She assisted him in an art heist that let two guards dead. When Kagen asked her to lure MacLeod to him, she refused.  He then speculated that she was sleeping with MacLeod, and 'the old man' he had stuck with his stiletto earlier.  When she found he had hurt her Uncle Maurice, she told him to get out.
He told her no one sent him away, and he stabbed her to death, leaving her body for Maurice and MacLeod to find.
MacLeod then hunted down Kagan and took his head.
Ad blocker interference detected!
Wikia is a free-to-use site that makes money from advertising. We have a modified experience for viewers using ad blockers

Wikia is not accessible if you've made further modifications. Remove the custom ad blocker rule(s) and the page will load as expected.