Stanley Barton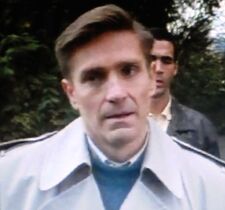 Statistics

Name
Stanley Barton
Immortals Observed
Cleo Montclief 1987 to 1989
Xavier St. Cloud 1989 to 1994
Nationality
British
Occupation
Hunter
Portrayed by 
Steven Hilton
Formerly of the RAF, he was recruited by Watcher, Lily Wagner and after the academy, was given  the assignments:
1989-1994: Xavier St.Cloud
1987-1989: Cleo Montcrief
His skill set included pilot, helicopter pilot, and the languages English, French, Italian. He observed Xavier St. Cloud from 1989 to 1994, although he was technically replaced by Robert Louis in 1990.
Barton helped James Horton to locate Xavier, and later worked with them to lure Duncan MacLeod into a trap. After the deaths of Xavier and Horton, Barton disappeared. He is still being sought by the Watchers for his part in Horton's conspiracy.
Ad blocker interference detected!
Wikia is a free-to-use site that makes money from advertising. We have a modified experience for viewers using ad blockers

Wikia is not accessible if you've made further modifications. Remove the custom ad blocker rule(s) and the page will load as expected.