Steven Jarmel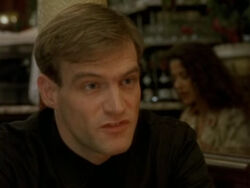 Statistics

Name
Steven Jarmel
Born
1958
Died
1995
Nationality
American
Status
Deceased, shot by street thugs in a robbery
Portrayed by 
David Gregg
Steven Jarmel was a businessman living in Paris with his wife Ceirdwyn, an immortal, about whom he is aware.
In 1995, Steven and Ceirdwyn were having dinner out during which they had a disagreement. When Steven went to get the car, five street thugs mugged him, took his wallet, and demanded his watch, which he refused to give them.
As Ceirdwyn was walking twardo the car she saw Steven shot by one of the thugs, who then turned and shot her. When she revived, Steven was dead, and the muggers gone. She then set out to avenge Steven's death.
Ad blocker interference detected!
Wikia is a free-to-use site that makes money from advertising. We have a modified experience for viewers using ad blockers

Wikia is not accessible if you've made further modifications. Remove the custom ad blocker rule(s) and the page will load as expected.