Stosh Cominski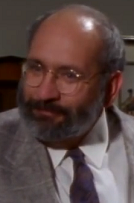 Statistics

Name
Stosh Cominski
Nationality
American
Status
Alive
Occupation
Commissioner of the Seacouver Police Department
Portrayed by 
Jay Brazeau
Stosh Cominski is a mortal with the police in Seacouver, Washington. In October 1992, Cominski approached Duncan MacLeod concerning the suicide of Felicia Martins, who mysteriously disappeared from the morgue. Cominski arrived at MacLeod's antique shop because they discovered a business card of MacLeod's in Felicia's shirt.  Richie Ryan told Cominski he only met her briefly when Felicia came to the store earlier that day.
In November 1992, Cominski would be called when a hostage situation at the courthouse unfolded when a convicted murderer,
Bryan Slade
, who was about to be sentenced, was thwarted in an escape attempt.  Among the hostages were Richie, Duncan and
Tessa Noël
.
Cominski was in charge of negotiating with Slade. Randi McFarland was also at the scene, reporting. Slade shot MacLeod in front of the CCTV cameras which Cominski was monitoring, when the SWAT team, without Cominski's knowledge, sent snipers to the roof of the building.  When Duncan revived he hunted and killed Slade's gang one by one, ending with Slade himself. After the end of the hostage situation, Cominski serves as police spokesman during the ensuing press conference.
Continuity note:   In the episode Bad Day in Building A, he is called Lieutenant by the SWAT team leader, however, he was called Commissioner by MacLeod in the episode Free Fall.