For the video game, please see Highlander: The Last of the MacLeods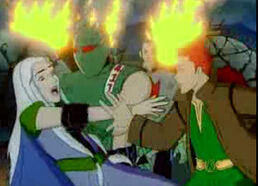 An attack on the Dundees leaves Quentin and his sister orphaned.
Ramirez arrives to begin Macleod's training.
Quentin goes to Moganda to free the captured Dundees with the help of the Jettator, Mangus, who helps them sneak into the place.
Kortan confronts the group, and Mangus sacrifices himself to allow the others to escape.
Ad blocker interference detected!
Wikia is a free-to-use site that makes money from advertising. We have a modified experience for viewers using ad blockers

Wikia is not accessible if you've made further modifications. Remove the custom ad blocker rule(s) and the page will load as expected.