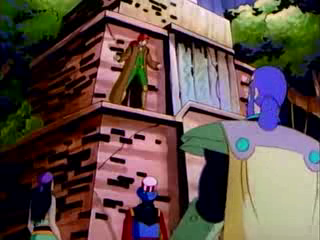 Quentin complains about the lack of freedom to play, and Ramirez decides to take him to a run-down city controlled by gangs of children to show him how young people live in this desolate age. Quentin tries to break up a fight between members of two gangs, the Rainbows and the Palees, but is met with hostility from all sides. When he attempts to bring them together to work things out, conspiracies upon conspiracies are formed, and soon Arak is on his way to capture MacLeod. Meanwhile, Gaul is taken captive by the gangs, so Clyde and Ramirez go in search for the pet. Ramirez knocks out a Hunter and impersonates him to terrorize one of the gang leaders into realizing Kortan just plans to enslave them all, not give the Palees the run of the city. When the assembly is held, Arak and his forces arrive. Quentin convinces the gangs to unite to take them down. The Hunters are defeated and Gaul is returned.
Given the appearance of landmarks that resemble the Arc du Triomphe and Notre Dame Cathedral, this episode appears to take place in the ruins of Paris.
Ad blocker interference detected!
Wikia is a free-to-use site that makes money from advertising. We have a modified experience for viewers using ad blockers

Wikia is not accessible if you've made further modifications. Remove the custom ad blocker rule(s) and the page will load as expected.