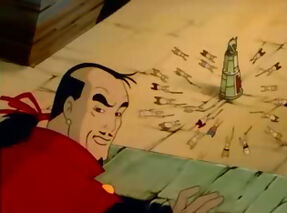 Quentin, Ramirez, and Clyde find themselves in a booby trap-filled labyrinth where prisoners are held and worship The Almighty K, aka mechanized totems with the head of Kortan on them. These nameless prisoners have lived there from birth and are trained to be Hunters. Quentin befriends one of them and gives him a name: Connor. Arak arrives to lead the prisoners to hunt down the escaping heroes. Ramirez discovers that Arak was born in the prison. Quentin employs his immortality to short-out the electric fence, and the prisoners turn to follow MacLeod. Kortan unleashes an army of giant ants to wipe out the prisoner tribe. Arak provides the prisoners with an escape route, and they see the outside world for the first time. They are free to take on their own destinies.
Ad blocker interference detected!
Wikia is a free-to-use site that makes money from advertising. We have a modified experience for viewers using ad blockers

Wikia is not accessible if you've made further modifications. Remove the custom ad blocker rule(s) and the page will load as expected.