Tommy Bannon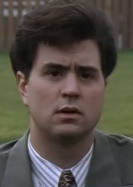 Statistics

Name
Thomas Bannon
Died
1993
Nationality
American
Status
Deceased, killed by Anthony Gallen
Occupation
Investigator
Tommy Bannon was a mortal working for Michael Honniger, president of Honniger Communications, who suspected his daughter was involved in a conspiracy against him, and was paying Bannon $2,000 a week to find out what was going on and take care of it for him, while working under the cover as an investigative reporter. Honniger was correct, and Bannon discovered Suzanne Honniger had hired a hitman, Anthony Gallen to kill her father. Bannon tracked Gallen to a closed amusement park, armed with a silenced 9 mm pistol in order to kill him. Gallen, however, ran him down before Bannon could act. Duncan MacLeod who had been engaged in a fight with Gallen before the murder, tried to resuscitate Tommy to no avail.
At Bannon's funeral, his mother, Betty, was grateful for Duncan MacLeod's presence, and he offered her any assistance she might need. When she uncovered her son's quarter million dollars tucked away in a safe deposit box, she turned to MacLeod for advice. He told her to keep the money and go home to Scotland, "it's what Tommy would have wanted."
Ad blocker interference detected!
Wikia is a free-to-use site that makes money from advertising. We have a modified experience for viewers using ad blockers

Wikia is not accessible if you've made further modifications. Remove the custom ad blocker rule(s) and the page will load as expected.