Victor Paulus
Statistics

Name
Victor Paulus
Born
November 11, 1944 in New Haven, Connecticut
Nationality
American
Status
Deceased, killed by Callestina
Occupation
Peace Activist
Portrayed by 
Earl Pastko
He was referred to as a "dogged crusader and...future candidate for the Nobel Peace Prize."
Grayson, Darius' one-time protégé, approached Darius to let him know that he would hunt down Darius' other students, one by one -- among them, peace activist, Victor Paulus, a mortal.
Upon his arrival in Seacouver, Grayson attempted to assassinate Paulus, only to be foiled by MacLeod, another of Darius' protégés.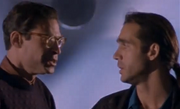 MacLeod, then remained near Paulus during his time in Seacouver, attending his speech at a cemetery, and at a the Sterling Hotel where Paulus was giving his final conference. 
Grayson and his minions appeared at both, and MacLeod foiled the attack in the hotel, beating the three attackers into unconsciousness in front of Paulus, who then wanted to know who MacLeod was.  When told he was a friend of Darius, Paulus said, "You didn't learn this from Darius."
Paulus left Seacouver to continue on his mission.
Ad blocker interference detected!
Wikia is a free-to-use site that makes money from advertising. We have a modified experience for viewers using ad blockers

Wikia is not accessible if you've made further modifications. Remove the custom ad blocker rule(s) and the page will load as expected.