Vince Petrovic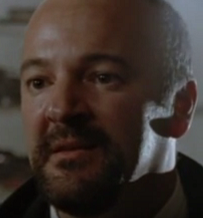 Statistics

Status
Deceased
Occupation
Criminal
Portrayed by 
Stephen Dimopoulos
Seacouver's crime boss, he hired Immortal hitman, Paul Kinman, to kill local businessman, David Markum, when the man refused to give Petrovic a percentage of his small grocery store. When Kinman missed the target, but instead, accidentally killed the grocer's wife, and was then caught by the police, Petrovic tried to disassociate himself from the mess. When Kinman later escaped, and came to Petrovic for his payment, Petrovic sneered, "What money? You missed. You got caught."
Kinman shot him in the leg, and spoke of the days when he worked for royalty, but now all the barons were mere money lenders. Petorvic called Kinman a wacko, and then promised he'd help get him out of the country if that was what he needed. Kinman then shot him to death.
Ad blocker interference detected!
Wikia is a free-to-use site that makes money from advertising. We have a modified experience for viewers using ad blockers

Wikia is not accessible if you've made further modifications. Remove the custom ad blocker rule(s) and the page will load as expected.