Vladimir Rankov
Talk

0
745pages on
this wiki
Vladimir Rankov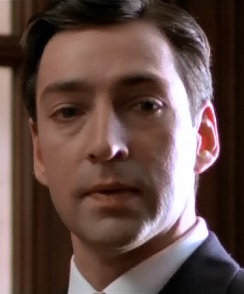 Statistics

Aliases
Durankon Rankov
Watchers
Jerry Helfet
Status
Deceased, beheaded by Amanda in 1999.
Portrayed by 
Miles Richardson
In 1565, under the name Durankon Rankov worked for the ruler of Savoy as ambassador. He was sent to Burgundy to negotiate peace. When he got there, he met the Immortal Amanda and gave the Duke of Burgundy, finally offering to end a marriage between Christina and Phillip of Burgundy from Savoy to the war between the two countries. But Durankon was not interested in peace, but to the dowry that he should take as a sign of good will return to Savoy. On the way he murdered his companions, and tried to hide the loot, then Burgundy to blame. He was however surprised by Amanda, who turned Durankon to fight. They fought, but ultimately they pushed him down a hill and let it go at that. But they brought a dowry to Savoy. Durankon wanted revenge on Amanda. He stole the wedding of Amanda's protege, Christina and murdered during the ceremony, the young wife with a crossbow. Amanda could not stop him, Durankon disappeared without a trace.
Rankov struggled with both left and right with. He knew Winston Churchill (1874-1965), whom he met back around 1928.
About 1995 remained Rankov on the Balkans. In an unspecified country in which just began a civil war, he saved the life of a teacher who later became prime minister and appointed his adviser Rankov. Probably in 1998, Rankov learned of the existence of observers. His observer, the famous journalist Jerry Helfet, came too close to him and was interrogated by Rankov, tortured and finally murdered. Rankov in 1999, accompanied his prime minister to Paris for peace talks. However, he secretly sabotaged the peace. One day, Rankov got back to Amanda, who he caught during a burglary at the Chateau, where the delegation stayed Rankovs. Amanda had it in for Rankovs laptop that contained information about his duplicity, but the buzz she revealed. You could with her partner Nick Wolfe just barely escaped. A few days later attacked his guards Tim Helfet at the Château, the son of the murdered Watcher. Tim wanted to avenge his father's death. Rankov took the opportunity and shot the prime minister. Helfet should serve as a culprit, but Amanda, who was with Wolfe successfully stolen the incriminating computer, proposed a deal. Rankov and Amanda met behind the Chateau and fought, Amanda won.