William Culbraith
Talk

0
745pages on
this wiki
William Culbraith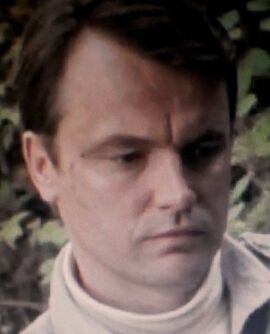 William Culbraith
is an Immortal and soldier. Over the years, he has traveled and later on settled in Georgia, USA in 1800s. In 1864, Culbraith was a Confederate colonel in the American Civil War who ran a military prison at Andersonville, Georgia, who did not treat the Union soldiers all that well and did not give them enough food. Culbraith would meet
Duncan MacLeod
, who was helping an escaped slave named
Jeffrey
, who is suffering from gengrene on one of his legs. MacLeod talked to Culbraith about getting help for Jeffrey. Culbraith told MacLeod he would send a surgeon when he is available. Culbraith recieved a letter, telling him that his wife and adopted children were killed in a building fire caused by Union soldiers and it is there Culbraith would become bitter. MacLeod tried to get Culbraith to help Jeffrey, but refused, telling MacLeod that the surgeon is busy tending other patients. MacLeod had to kill Jeffrey cause of the gengrene getting bad cause Jeffrey wanted MacLeod to kill him, it is there that MacLeod would be angry towards Culbraith.

In 1996, Culbraith is living in Seacouver, Washington on a boat and MacLeod would end up facing off with one another till an Immortal, claiming to be Methos stops the fight and convince MacLeod to not fight Culbraith cause of Culbraith's pain. The Messenger would later on talk to Culbraith and tell him about why he is bitter cause of the loss of Culbraith's family in 1864.
Culbraith, seemingly understanding The Messenger's message, draws out his sword and beheads The Messenger. Culbraith would meet Richie Ryan at The Messenger's place and Richie, who bought into The Messenger's message, did not bring his sword since he gave up fighting cause of the message. He and Culbraith talk about the Messenger. Culbraith ends up drawing out his sword and Richie, who thought Culbraith listened to the Messenger, did not and tries to take Richie's head. Duncan MacLeod arrives with Richie's sword and trows it to Richie and Richie defeats Culbraith and takes Culbraith's head and receives his Quickening.