William Grenville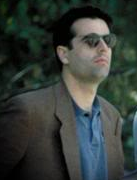 Statistics

Aliases
Bill Green, Guillermo Verdaccio
Born
1601, Ajaccio, Cosica
First Death
1637, Merchant vessel attacked by pirates
Teachers
Robert de Valicourt
Origin
Corsican
Watchers
Richard Moen
Status
Alive
Occupation
Restaurateur
An immortal, born in Corsica about 1601 as Guillermo Verdaccio.
Currently he lives on Tahiti, painting or diving during the day, working at his restaurant in the evenings, where he plays host to the wealthy tourists.
His first teacher was Robert de Valicourt.     
Ad blocker interference detected!
Wikia is a free-to-use site that makes money from advertising. We have a modified experience for viewers using ad blockers

Wikia is not accessible if you've made further modifications. Remove the custom ad blocker rule(s) and the page will load as expected.